E-learning emergency response officer
Increasing numbers of employees with a nationality other than Dutch are enrolling in emergency response courses in English.
For this reason, NIBHV is developing teaching and learning materials and knowledge documents in the English language.
You can now also opt for an online course with practical component: you then do the theory via e-learning and attend a one day practical course focused on acquiring the skills. Ask your ER trainer about the options.
Texts, instructions, videos, animations, questions and assignments and feedback easily guide the student through the content. Each part is concluded with an e-learning test. Their progress can be seen at any time and the program keeps track of what students have completed and what they still have to do.
Watch the demo of the e-learning basic training emergency response officer: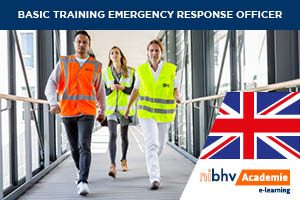 Want to know more?
Contact NIBHV by email (info@nibhv.nl) or send your message via the contact form below: